McAllen slip and fall lawyer Chris Sanchez, from The Law Offices of Chris Sanchez, continues on his quest to beat cases, obtain judgement on his clients behalf, and maximum compensation from his cases.
Attorney Chris Sanchez is an excellent attorney he is very strategic, one step ahead, will fight for you, and be the voice you need to represent you against the opposing party. I highly recommend Mr. Sanchez to family, friends and co workers. I'd trust him with anything, do not hesitate to call him.

Uriel Lara – Google Reviews
With a steady amount of 5 star reviews coming in, it is now wonder attorney Chris Sanchez is one of the most sought after McAllen slip and fall lawyers. His hard at work legal time works around the clock to prepare for cases and when its time to go to court they are ready and prepared to go all the way with your judgement or settlement. Having a professional, established lawyer that fights hard for you means you are likely to obtain a better settlement and judgement on your behalf.
Slip and fall cases in general are very difficult to deal without a knowledgeable attorney's help. Due to insurance companies doing everything they can to back out, devalue, lower, or deny your cases. It is imperative you have an attorney that understands the situation fully.
The Law Office of Chris Sanchez will do all the hard work. We will gather the necessary evidence, including contacting the owner of the property or place of accident, and check any necessary and pertinent information that relates to your accident or injury.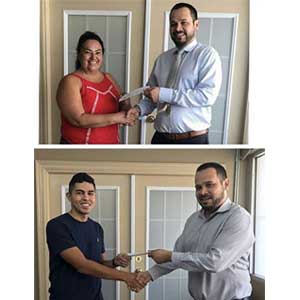 A slip and fall accident is when a person slips, trips, or falls on a hazard, often resulting in injuries. If this happens on another persons property or place of business, usually the property, property owner, or insurance of, is held responsible. This is where having the best McAllen slip and fall lawyer helps.
Give The Law Office of Chris Sanchez a call today to get started with a free consultation at (956) 686-4357.