When it comes to seeking legal representation for personal injury cases in McAllen, TX, look no further than Chris Sanchez, the relentless personal injury attorney. With a new office conveniently located at 317 W Nolana Ave, McAllen, TX 78504, Chris Sanchez is dedicated to providing top-notch legal services to clients in need. In this article, we'll explore how Chris Sanchez and The Relentless Lawyer can help you navigate the complexities of personal injury cases and why his new location is your go-to solution for justice. We are able to assist with any Mcallen car crash cases.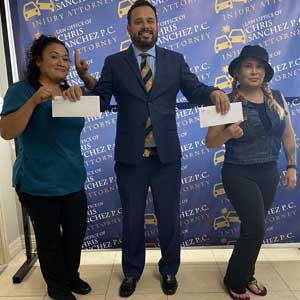 Expertise in Personal Injury Cases: With years of experience, Chris Sanchez has earned a reputation as a highly skilled personal injury attorney. His deep understanding of the legal landscape, coupled with a relentless pursuit of justice for his clients, sets him apart from the rest. Whether you're dealing with a car accident, slip and fall, workplace injury, or any other personal injury situation, Chris Sanchez has the expertise to guide you through the legal process.
The Relentless Approach: At The Relentless Lawyer, every case is treated with the utmost dedication and determination. Chris Sanchez's relentless approach to legal representation ensures that your rights are protected, and you receive the compensation you deserve. He understands the physical, emotional, and financial toll that personal injuries can have on your life, and he's committed to fighting tirelessly on your behalf.
New Location, Easy Access: The recent opening of Chris Sanchez's new office at 317 W Nolana Ave, McAllen, TX 78504, brings his exceptional legal services closer to you. This strategic location ensures easy access for clients in McAllen and surrounding areas, making it convenient to receive expert legal advice and representation without having to travel far.
Services Near Me: If you're searching for "personal injury attorney near me" in McAllen, TX, look no further than Chris Sanchez at The Relentless Lawyer. His new office's central location means that you can quickly find the help you need when you need it the most. Whether you're at home or work, Chris Sanchez is just a short drive away, ready to provide you with personalized legal guidance tailored to your unique situation.
Why Choose Chris Sanchez at The Relentless Lawyer:
Proven Track Record: Chris Sanchez has successfully handled numerous personal injury cases, securing fair settlements and verdicts for his clients.
Personalized Attention: You're not just another case number. Chris Sanchez takes the time to understand your needs and concerns, providing personalized legal strategies.
Strong Advocacy: As a relentless advocate, Chris Sanchez fights for justice, ensuring that responsible parties are held accountable for their actions.
Convenient Location: The new office's location at 317 W Nolana Ave, McAllen, TX 78504, makes it easy for you to access top-tier legal representation right in your community.
Contact Chris Sanchez Today: Don't let a personal injury case overwhelm you. If you're in McAllen, TX, and in need of a skilled personal injury attorney, reach out to Chris Sanchez at The Relentless Lawyer. You can contact him at 956-616-2020 to schedule a consultation. Remember, justice is within reach, and Chris Sanchez is here to fight for your rights every step of the way.
Conclusion: When it comes to personal injury cases in McAllen, TX, Chris Sanchez at The Relentless Lawyer is the name you can trust. With a reputation for excellence, a dedication to his clients, and a new office location for your convenience, Chris Sanchez is ready to serve as your relentless advocate. Contact him today to ensure your rights are protected and justice is served.