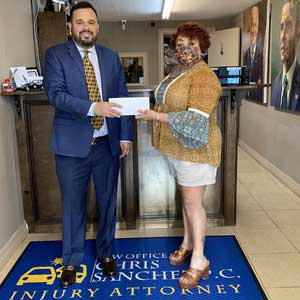 Edinburg car accident attorney Chris Sanchez is winning cases and securing maximum compensation for his clients. Best of all, it all starts with no money up front and a FREE consultation.
Law Office of Chris Sanchez is a personal injury law firm located in McAllen, Texas, and serving the entire state Texas. Clients from around the state have sought the services of Chris Sanchez as he has made a name for himself for always being in the pursuit of justice.
If you have had a personal injury or involved in a car accident, whether major or minor, it is important that you consult with a professional attorney that knows the ins and outs of the court system, as well as fight for maximum compensation and someone that will ensure you get everything that you deserve and more.
There are many circumstances that may affect your case or outcome of your case. Law Office of Chris Sanchez has a dedicated team made up of professional staff that will comb through every detail of your case to ensure the best legal outcome.
Having helped hundreds of clients around the state of Texas, Law Office of Chris Sanchez, a McAllen and Edinburg car accident attorney, is highly sought out by individuals across the state. It is always best to start with the FREE consultation by giving them a call at (956) 686-4357.
From there on out, one of the legal staff members will walk you through, step by step, and help make your case go by as smooth and stress free as possible. Having first hand experience of how stressful and anxiety-inducing these things can be, we will be with you every step of the way and take extra care to help you have a successful outcome of your case.
Give us a call today to start your free consultation at (956) 686-4357