Law Office of Chris Sanchez, a personal injury attorney in McAllen, receives stellar reviews all across the board. There are very good reasons why people are happy, satisfied, and feel extremely well represented when having Law Office of Chris Sanchez by their side. Keeping in mind that not everyone leaves a review, the google review page slowly keeps rising with more 5 star reviews.

When people search for a "personal injury attorney in McAllen", they seek the best representation that will give them maximum compensation and justice. And that is exactly what the Law Office of Chris Sanchez does with each and every client.
With minimal social media advertisement, it may come as a surprise they have over 4000 likes and followers.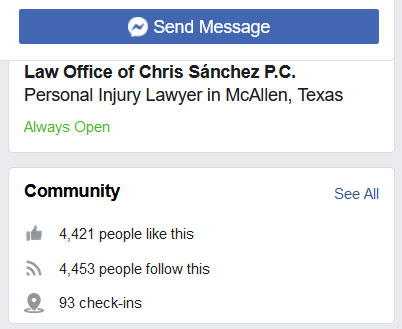 With the Facebook page slowly growing mostly due to word of mouth. It only pushes the team more to be better, try harder, and do their best with every single case.
Starting with a free consultation, there is no better way to get all of your questions answered. The Law Office of Chris Sanchez, in McAllen Texas, is honest, upfront, and will provide you with realistic expectations. All of your questions and doubts will be answered along with a stress free experience.
How much can I get for my personal injury case or car accident?
There is really no exact amount that can be given as several factors affect the settlement amount. Did you have insurance? Did the other person have insurance? How serious was the accident?
Those are just some of the questions we need answers to before getting down to settlement amount. What we can guarantee however, is that we will put in our best effort, experience, research, and knowledge into your case. We will fight tooth and nail to obtain the best legal justice along with maximum compensation available to you.