Harlingen slip and fall attorney Chris Sanchez is back again winning more and more cases. Previously having won slip and fall cases in McAllen, Edinburg, and Brownsville, Chris Sanchez is working hard in Harlingen to ensure his clients obtain maximum compensation.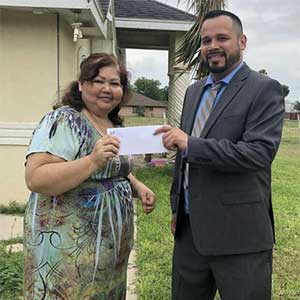 A great Harlingen slip and fall attorney such as The Law Office of Chris Sanchez will not stop fighting for you and understands how important it is for you and your family to make things right.
Based on past reports, the average slip and fall settlement is between $10,000 and $50,000. If you have been in a slip and fall accident or sustained some kind of injury due to business or workplace negligence, you may be entitled so significant compensation. The settlement may also include medical bills, lost wages, and other accident related damages.
Slip-and-fall cases rely heavily on collected evidence. It includes:
Photos of the slip and fall scene
Witness testimony
Security camera footage
To strengthen your case, it's important to gather evidence as quickly as possible. Some of it can disappear within minutes. For example, if you've slipped on spilled liquids in a grocery store, the cleaning team will remove the puddle right after you get up. Meanwhile, witnesses of the accident could leave the scene immediately without sharing their contact details.
It's easy to feel lost and confused after a slip-and-fall. That's why you should consider calling an attorney right after the accident occurs to get clear instructions on how to proceed.
Call us today to get started with a FREE consultation and see what we can do for you. There is no obligation to call and our legal staff is available 7 days out of the week. We will travel to you as needed and offer our service around the Rio Grande Valley. Don't wait, call today!