Best personal injury attorney in McAllen is considered to be Chris Sanchez, from The Law Office of Chris Sanchez P.C.
Having helped hundreds of clients win cases and obtain maximum settlement, it is no wonder why he is one of the most requested attorneys.
Starting with a FREE consultation, we will make every effort to ensure your case is rock solid prior to going to court.
The Law Office of Chris Sanchez works many different types of cases including but not limited to: 18 wheeler accidents, car crashes, commercial type cases involving work related accidents, slip and fall, construction accidents, wrongful death, and more. We have also worked cases all around the Rio Grande Valley including Brownsville, Harlingen, Mercedes, Weslaco, Edinburg and Mission.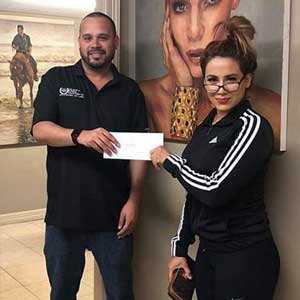 We know going through the process can be very stressful and hard. That is why we try to make the process as smooth and easy as possible for you.
The best personal injury attorney is often not the one you see on TV all the time, but the ones with word of mouth feedback and praise. That is why The Law Office of Chris Sanchez is considered the best personal injury attorney.
With hundreds of satisfied clients, Chris Sanchez and his legal team of professionals are dedicated and committed to winning their case.
We offer a straight forward free consultation where we are honest, up front and under no circumstances do we give false hope or false expectations.

Legal Team Member @ The Law Office of Chris Sanchez
Having won millions in combined settlements, best personal injury attorney Chris Sanchez is a force to be reckoned with. Insurance companies recognize the name, and often times settlements agreements are reached (providing our client consent) to avoid going to court with Chris Sanchez.
Call us today at 956.686.4357 to see how we can help you with a FREE consultation. Our legal team is available 7 days out of the week and waiting for your call.