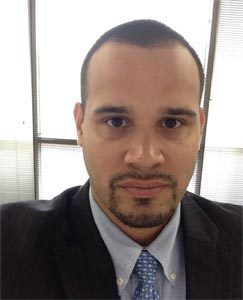 ATTORNEY CHRIS SANCHEZ
Chris Sanchez has been a licensed attorney since June 12, 2014, and was sworn in by the Hon. Judge Sergio Valdez in the County Court at Law #7 of Hidalgo County, Texas. Chris loves the practice of law, and feels that his main goal in engaging in the practice is to help people obtain justice to the best of his ability.
About
Chris is very close to his family and to his ties to the Rio Grande Valley.  He is the son of Ray and Eunice Sanchez and brother to Carolyn Morin.  He was born in Harris County, Houston, Texas.
His parent's respective families are both from the valley.  After living in the Rio Grande Valley for a short period of time after his birth, the Sanchez family moved to Fayetteville, North Carolina, and then to Raleigh, North Carolina, and ultimately moving closer to the coast to Wilmington, North Carolina, where Chris graduated from John T. Hoggard High School in New Hanover County, North Carolina.
Education History
Chris began his college education at the University of North Carolina at Wilmington, and finished with a Bachelor's of Business Administration in Finance at the University of Texas Rio Grande Valley when it was still considered the University of Texas Pan American.
After college Chris engaged in the insurance business in Harlingen, Texas, with Western and Southern Life and later with American General AIG in McAllen, Texas. He became a school teacher at Ann Richards Middle School in Mission, Texas with La Joya ISD, and later taught at San Juan Middle School with the Pharr San Juan Alamo school district as an 8th math teacher, 10 grade geometry to middle school students earning high school credit, and also served as the campus Alternative Education Program teacher for grades 6-8 in his final year as a teacher.
He served as a juror for three and a half days and it had always been his dream to become a lawyer.  It was then that he felt that it was truly his calling and that he could not resist taking whatever reasonable steps necessary to realize his dream by making things come into fruition.  Eventually, Chris made the decision to attend the Thomas M. Cooley Law School in Ann Arbor, Michigan before transferring to the main campus in Lansing, Michigan to eventually graduate with a Juris Doctor law degree in May of 2013.  Chris then returned to Texas to pass the Texas Bar Exam during the February 2014 administration.
Professional Association